5 Tips to Grow Your Practice via
Direct Mail Marketing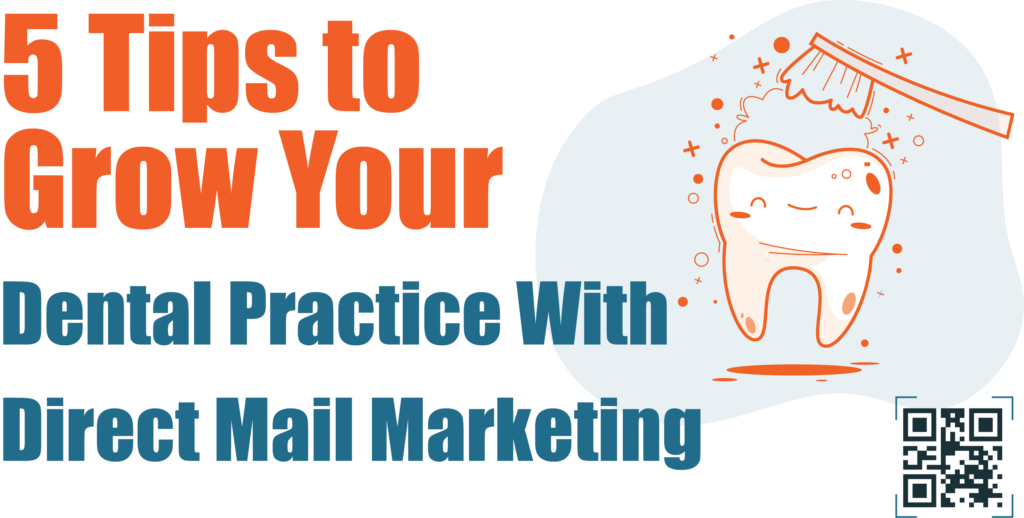 Some dental practice managers may argue that direct mail marketing is out of date and unlikely to
reach prospective patients. However, it's not the direct mail approach that's out of date but
rather the lead lists you use for your direct mailings. By utilizing the latest data to generate lead
lists combined with the latest communication trends, direct mail can become one of your greatest
marketing assets.
Here's how:
Reach prospective patients before other practices do
We believe that saying hello first to prospective patients is key to ensuring they choose your
practice. A great source of new leads for dental practices are individuals and families that
purchase a new home in the neighborhoods that the dental practices serve. Studies show that
new homeowners make important purchasing decisions – including choosing dental and medical
providers – within the first month of purchase, and are more likely to become long-term
customers of the companies that reach them first. Therefore, we recommend sending direct mail
marketing that introduces your practice to new homeowners in your service area within the first
month of their home purchase.

Don't rely on stale, outdated lead lists
Lead lists from list brokers or online vendors that claim to have "new homeowner information"
are outdated – ranging from 30 days to a year outdated, and in most cases, the "new"
homeowners listed on these lead lists have been living in their home for 6-12 months prior to
them appearing on a lead list. If the list broker promises phone # and email address, the list is
not new, as it takes months to obtain phone numbers and email addresses from leads.
Remember to always ask whoever is selling you the list, what date is the data from.
With Local Leads 365 you can be sure that you have the latest homeowner data. We receive
new property data and insights within 24 hours of closing and it is updated to our platform for
you to use right away

Leverage QR codes in your direct mail marketing
Since direct mail is a static medium, QR codes can be used to make it more engaging. Allow users
to schedule appointments, learn about the practice, and redeem offers online. It's all possible
with a QR code.
PRO TIP: Add a compelling call to action: Let the user know what will happen when they scan the
QR code. 'Learn more' is not as effective as 'Scan and save 20% on your first cleaning and X-rays'.
Try personalization in your messaging
A lot of dental practices use messages that focus on "meeting the dentist" or "seeing the office".
While these messages are very important, including your patients' personal stories and
experiences with the practice in your marketing is much more impactful. Prospective patients
need to feel confident in the fact that they'll have a positive experience with the practice they
choose, so try a testimonial!
Send follow up communications
It's possible for prospective patients to miss your first communication, or just not be in a position
to act on it. Don't let them forget about you. Send follow up campaigns at regular intervals to
keep your practice top of mind!

Local Leads 365 makes it easy to send out follow up direct mail pieces with our customer
tracking tool and re-targeting campaign feature.